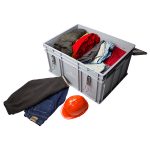 The set consists of:
1x pair of trousers
1x T-shirt
1x jumper, jacket or coat
1x headgear
Rental prices:
Article number / First day: RST-708-105 / € 15,-
Article number / Extra day: REX-708-105 / € 1,-
Optionally available for rent:
Washing of clothing set: € 25,-
Dressing or undressing the dummy: € 25,-
'
Dress your dummy realistically
Training dummies are often used 'as they are' during training exercises. However, it may help to dress your training dummy if you really want to make your training exercise realistic. Of course it would be even better if the clothing suited the scenario. We have an extensive wardrobe available for our training dummies within FireWare. Why not get in touch to see whether the required clothing is available for verhuur!
Please note: any clothing is supplied clean and we will expect to receive this back just as clean. No time to wash the clothing, or to dress and undress the dummies? No problem, we'll gladly do this for you, although we will ask for a small fee in return.